If you've ever played on a sports team you know that dreaded feeling when you miss that important shot. It stinks. Especially when you know you could have done better, made different choices or picked a different strategy. You end up pushing that moment back into the deep recesses of your memory because really, who wants to relive that feeling again?
There it is…the big F word…Failure.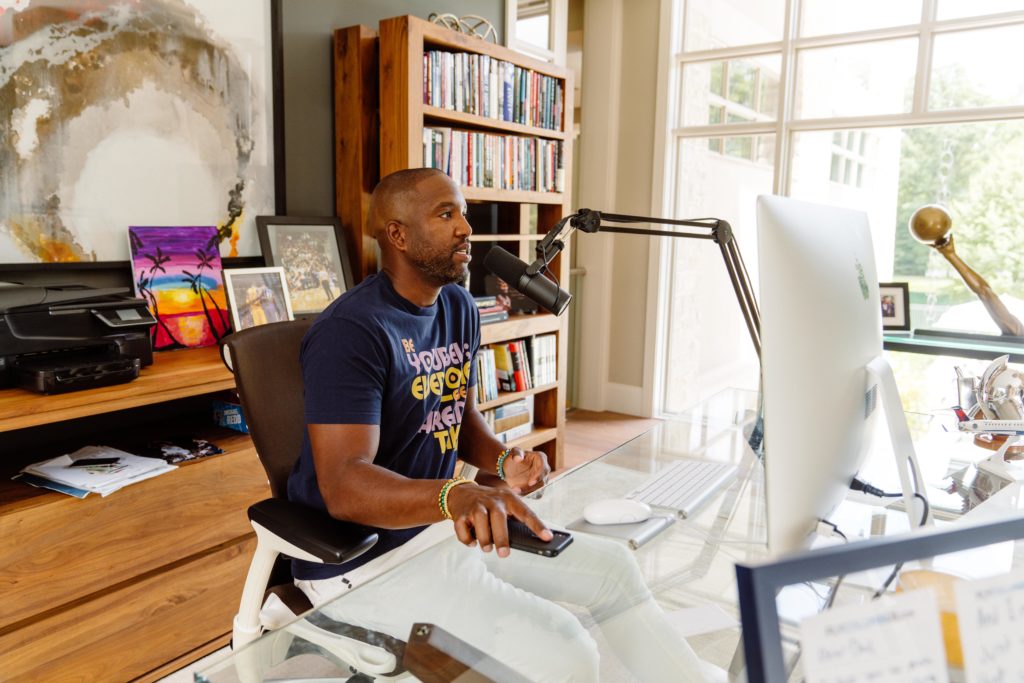 There are so many stories I've heard over the years about people that gave up on their goals after one failed attempt. There are kids nowadays that stop pursuing their dreams because it doesn't work out for them the first time around or the challenge was just too much. I think it's easy for people to identify themselves as a failure, instead of it being "a moment" of failure for them.
Think about all the highly successful people who failed on their way to the top. Two that come to mind for me are Walt Disney and Michael Jordan. Walt's newspaper editor said he was "lacking in imagination" (what??), and Jordan's high school coach cut him from the team (big mistake!!).
Even as entrepreneurs, we set out with lofty goals and huge aspirations to completely change things and make an impact, but sometimes, we just end up throwing a brick. I've been thinking about this a lot recently and how much I want people to realize, especially young people who ask me for advice, that it's okay to fail and here's why:   
Failure brings change
How many times have you messed something up only to say to yourself, "well, I'm never going to do that again." That's the beauty of failing. It helps us learn from our mistakes. It brings to light the things we want to do differently for next time.
Failure invites feedback from others so we can learn how to improve, get stronger, smarter and more determined. "That player will not outrun me next time. I will become faster."
We can use failure to take an assessment of our weaknesses so we can create a new strategy that takes into account the things we have to do to win. Then when success does come our way, we know what we had to change in order to get there. I think they call that a "successful failure," right? 
Failure breeds courage
Maybe you have aspirations of being your own boss, starting your own business, or just being more independent, but the thought of abandoning your safety net or the fear of the unknown is paralyzing. There are so many entrepreneurs I've talked to that had to abandon their fear of failure and just go for it. Guess what? Some of them failed on their first attempt and their second and even their third. But they didn't let failure define them. It wasn't a stopping point in their journey, it was a detour that put them on a different path. They became successful because they were willing to keep trying.
Failure can build confidence. You start to worry less about failing and you become bolder in your decision making. Some of the most successful people I know exude a level of confidence that's admirable and it's not arrogance. Instead, they credit failing as a catalyst to get better, to be less afraid and to take more chances. Remember your greatest fear shouldn't be failing, it should be never having the courage to even try.  
Failure grows faith
I'm constantly being reminded in life that although we can choose the path we want to take, sometimes it's not the path we're supposed to be on. But here's the thing…you'll never know what your path is unless you have the courage to fail and find out what you're made of and what you're meant to be doing.
I had an injury that eventually ended my basketball career. I could have viewed that as failure. Instead, I took my passion for creating new things and serving people and looked for new opportunities. Yes, it's out of my wheelhouse and I'm not going to make all the right choices and that's OK. God uses failure to humble us. It's an opportunity to dig deeper into ourselves, find meaning in what we're doing and understand that there is a reason for things that happen, at the right time.
I've found that faith gets tested most when we're faced with adversity. The truth is we're not going to win all the time, but we have to have the faith to believe that even though we may not come out of our circumstances unscathed, there is a purpose and plan and the more you can embrace that, the more you'll be OK at trying and failing, then trying again, and finally succeeding.
I'll leave you with a quote that I heard recently that I think sums this up. "Failure is not the opposite of success. It's part of success." If you haven't failed, then your goals aren't big enough.
Where have you failed in life and how did you respond? Did you give up or did you use it as a chance to change your perspective and improve your chances for success? What are you willing to fail at in order to reach your goals?

Remember failure is just a moment in your journey. You won't be down for long.
Listen to the latest episode of my podcast, Betting on Yourself. Make sure to subscribe to my email list to stay connected with me and never miss an update!